Gobustan Petroglyphs
At a distance of 70 kilometers from the center of Baku, there is a real historical and archaeological treasure of the country, which is called Gobustan. The name "Gobustan" means "valley of ravines" or "land of ravines", since "Gobu" means a ravine, a depression, and "stan" is a land or a country.
Gobustan National Park is world famous for its rock paintings.
More than 40 thousand years BC, the ancient people, who were looking for shelter, stopped here, forming tribes. This is not strange, because it was on the Caspian coast in this valley of ravines that they had everything to ensure life.
.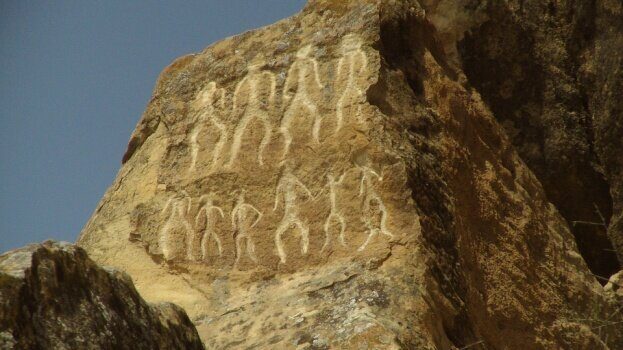 The first archaeological excavations in Gobustan began in 1939 by the Azerbaijani archaeologist Iskhak Jafarzade. He studied the territory with a total area of 537 hectares, where in the mountains of Gobustan called Boyukdash, Kichikdash, Jingyldag, Shikhgaya and Shongardag, he discovered 3500 rock paintings, sites of an ancient man, many tombstones and even several mounds. In 1948, an inscription in Latin was found, which confirms the presence of one of the Roman legions in the territory of Gobustan, and there is also an inscription in Persian dating back to the 14th century.
In total, about 6000 rock paintings were found in Gobustan, which archaeologists call "petroglyphs".
In 2007 National Park was included in the UNESCO World Heritages.
This is one of the most popular places for lovers of history and archeology