Great Silk Route 8 Days
Day 1 – Arrival to Baku
On arrival at Baku's international airport you'll be met by our representative for your transfer to the hotel. After check in there'll be free time. Overnight in Baku.
Day 2 – Baku Old City Tour
Today, we begin our discovery of the city of Baku, enjoying a sightseeing tour of Baku's most absorbing sights. We'll visit to the city's main monumental, historical and architectural attractions before climbing to the city's highest point at Upland Park for an impressive panorama of the Azeri capital and its bay. From there we'll descend to the old city, known locally as Icheri sheher. This was all there was of Baku until the mid-19th century when, as a result of the oil boom, a growth spurt caused the city to spill beyond its defensive walls.
This tiny area measures just 22 square hectares and yet it contains so many significant sights, including the Shirvanshakhs Palace, the Maiden Tower and the Karavansaray, once the place of merchants' rest. Today, just 1300 families call Icheri sheher, this city within a city, home. It's a delightful place to take an evening stroll through the maze of streets to the gathering place of Fountains Square. There are also plenty of opportunities for shopping, should you wish. Overnight in Baku.
Day 3 - Gobustan rocks and mud volcanoes (B)
Today after breakfast our guide will be waiting to collect you for your included excursion to Gobustan National Park. Situated in East Azerbaijan, this archaeological reserve borders the southern slopes of the Major Caucasus ridge to the north, the Harami and Mishov Mountains to the south, Pirsaat River to the west and the Caspian Sea and Absheron peninsula to the east.
Gobustan is a culturally significant landscape of myriad rock carvings. Over 6000 petroglyphs have been discovered here together; that's not all - there are also many ancient caves and archaeological sites within the reserve. Incredibly, some have been dated to as early as the 18th century BC. Overnight in Baku.
Day 4 – Absheron Peninsula (B)
Today's excursion is a guided tour to Ateshgah. The temple of fire worshippers, Ateshgah is located on the Apsheron peninsula on the outskirts of Surakhani village just thirty kilometres from the center of Baku. It was revered in different times by Zoroastrians, Hindus and Sikhs. The current temple building dates from the 17th century, but far more ancient artefacts have been excavated here. This pentagonal complex has an open courtyard with an altar in the centre which was a place of pilgrimage for worshippers.
Together, they offer a fascinating insight into the development of human activity in this area, with scenes of mountain goat hunts, ceremonial dances and even maritime imagery as this place used to be by the sea. On our way back to Baku, you'll stop at Yanar Dag.
This intriguing natural phenomenon is called the Burning Rock, so named because it is fuelled by seepage of natural gas. Flames up to three metres high regularly shoot from the sandstone hillside. Many believe that Yanar Dag is the reason Azerbaijan acquired its nickname, the Land of Fire.
This open air museum has been recently restored and by the decree of the President of Azerbaijan, Ateshgah was declared a State historical-architectural reserve. Our final stop today will be an excursion to the fortress of Ramana. Ramana Castle is estimated to date back several centuries. The height of the fortress' main tower is an imposing fifteen metres and is built of stone. It is assumed that it was built to protect a palace and was used during the reign of Shirvanshahs.
Day 5 – Modern Baku (B)
Having returned to Baku, we will visit some of the sights associated with modern Baku: the waterfront area of Baku Boulevard behind which rise the famous Flame Towers skyscrapers, the carpet museum, Heydar Aliyev Cultural Centre (from outside), Shopping Mall 28th May and Park Boulevard, a mall situated on the main promenade.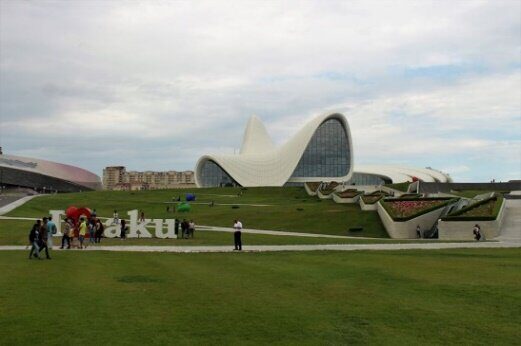 Azerbaijan located in area with 9 climatic zones. And that is why here we have a lot different kind of vegetables and fruits all year. Visit Baku green bazar. Overnight in Baku.
Day 6 - Baku - Shamakhi – Gabala – Sheki (B)
Azerbaijan has a long history, as demonstrated by places such as Shamakhi. It was once the capital of the Shirvan Empire and the base of the Shirvan Dynasty. These days Shamakhi is famous for its winemaking. Visiting this city you'll have an opportunity to acquaint yourself with the Yeddi Gumbez mausoleum, whose imposing domes rise mysteriously above an almost silent valley. From here there are stunning views back to Shamakhi. Not far away, you'll encounter the tombs of Diri Baba.
Equally atmospheric, the structures are built into the rock giving the appearance of an eagle's nest. As we approach, only the front is visible; the other sides are disguised by the cliffs from which they were hewn, giving the impression that the tomb is suspended off the ground. The monument has two storeys: while the lower floor was probably for servants, the upper, reached by stairs, would have been the salon. Whether it is a sacred site or a place of burial is up for interpretation.
Start explore Gabala. The country's most beautiful district is known as a tourism paradise. If it hadn't been for the Gabala radar station, which affects the local beauty and nature, the place would be ideal from both environmental and health standpoints…The distance to Baku is 225 km. Gabala is located in the Haftaran-Alazan valley and surrounded by the Greater Cauca­sus. It sits on the right bank of the Da­miraparan river 900 meters above sea level. Touching Lahij mountains on one side, Gabala is situated in the country's north-west at the foot of the Shahdagh mountain.
In Gabala at the area of 16 hectares is located the largest amusement park under the open sky in Azerbaijan – Gabaland. Visitors are provided with family, kids and extreme kinds of attractions, ice arena, carting, sports fields, XD theatre, convenient parking, great food in restaurants and cafes.
Continuing towards Sheki, we stop at Kish. This village is the site of a centuries-old Albanian church. Near the church you'll find an ancient cemetery where, visible through a glass cupola, you'll see numerous human remains. These bodies are impressively tall, appearing to be 2.5 metres or more. The Albanians who once resided here were giants with white skin and golden hair, very unlike the inhabitants of the modern Caucasian nations. Overnight in Sheki.
Day 7 - Sheki (B)
An excursion to the oldest city in Azerbaijan is a real treat. In ancient times people sold silk here, making Sheki famous among merchants travelling the Great Silk Road. Present day Sheki is packed with sights including a good history museum. The jewel in Sheki's crown, however, is Khan's Summer Palace with its wonderful façades built from brick, river stones and oak, decorated with floral motives. Inside, the palace impresses even more. Within its six rooms, there are beautiful frescoes painted by talented craftsman; some of them feature flowers, while others depict hunting or battle scenes.
In addition, two beautiful mirrored balconies, ornate decoration using rare colored Venetian glass and exquisite paintings featuring colorful depictions of birds and animals ensure this place does not disappoint the tourist. The first floor of this palace offers clues to Khan's wealth and power as the murals on the walls of animals and hunting are usually thought of as symbols of nobility. In ancient times the palace was surrounded by beautiful gardens, though nowadays only two large trees survive.
Day 8 - Sheki – Georgian border (B)
Transfer to Azerbaijan Georgia land border where tourists will cross to Georgia. Overnight in Sheki.